Immerse yourself in the warmth of Hakone's forest and take in Hakone's abundant natural beauty.
Spend an inspiring day in Hakone on a mountain bike tour for 9000 yen.
All you need to do is pedal--leave the rest to Hakone!
Hakone National Park has so much to offer.
What are you plans for this trip to Hakone?
You will discover a new and exciting Hakone on this mountain bike trip. It will be an experience that will reach your innermost self,
and exceed your expectations.
Our tours take place in Sengokuhara―one of Hakone's most preserved wilderness areas. Our cycling tours are not only good for your body. We strive for minimal environmental impact and a high level of safety. The wonders of Hakone National Park include beautiful cherry blossom tress, clear water springs, a beautiful lake and breathtaking autumn foliage. Why not immerse yourself in Hakone's wilderness and leave the rest to Hakone's natural beauty?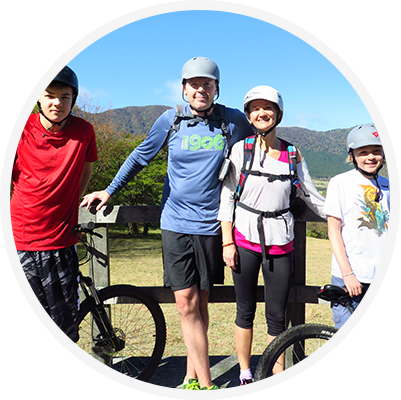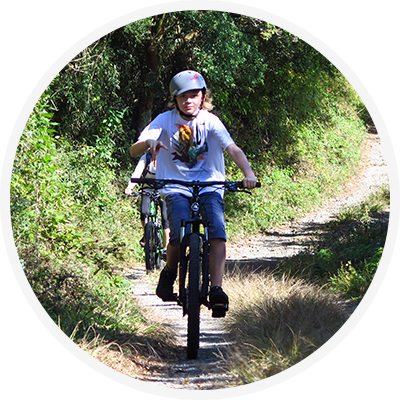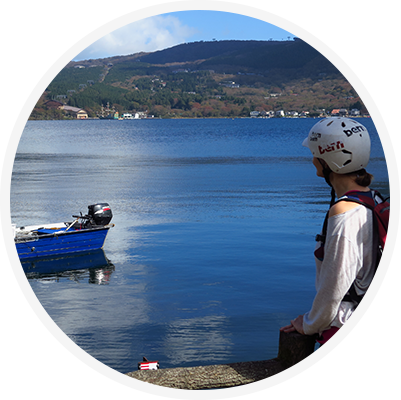 MountainBike Cruising Tours
◆ Deep Forest Cruising Tour
This is our basic and most popular course. Experience the wonders of inspiring Hakone. We will visit secret spots that you won't find in the guidebooks. choice for those of you looking for a day full of
Travel distance: 10.5 miles (17 kilometers) Time: 3 hours Price: JPY9000(12 and under JPY6000)tax included We meet at Hakone Visitor Center. It's a perfect
◆ Hakone Power Spot Cruising Tour
On this tour, which is popular among women, we will visit two power spots–the latest trend. The course has fewer up and down hills and trail surfaces are good and easy for the beginning cyclist to navigate. We'll bike beside the waters of Lake Ashi and enjoy the warmth of the sun's rays.
Travel distance: 11 miles (18 kilometers) Time: 4 hours Price: JPY 12000( under 12 age can not join this tour )tax included We meet at Hakone Visitor Center.
◆ Round The Lake Ashi Tour
This is our intermediate level trail for mountain bikers who are ready for a challenge. The views around Lake Ashi are spectacular and thrilling singletrack trails await. You will discover the depth of Hakone's striking beauty.
Time: 5 hours Price: JPY 15000( under 12 age can not join this tour ) tax included We meet at Hakone Visitor Center.
● Tour Package Includes
Mountain bike rental, teatime, mineral water, accident insurance. Hot Springs Separately JPY850
There is a twelve person maximum per day.
Free private tours are available.
Participants must be at least 140 centimeters.
● Schedule
Example: Deep Forest Cruising Trail
10:15〜10:30

Meet at Lake Arena Hakone Parking lot

10:30〜 Orientation

Our unique cycling adventure begins! We'll take a break to enjoy a special and relaxing teatime.
Time to continue biking and enjoying the wonders of Hakone.

13:30〜14:30

The spectacular view will make the meal an unforgettable one.
With renewed energy, we continue pedaling!
We reach the end of our journey (time varies depending on course). Time to soak in a warm,
soothing hot spring bath. The end of your tour! We hope you are rejuvenated after a day in beautiful Hakone.
● Accident Insurance Coverage(For MountainBike Tour)
In case of death JPY 3 million
Hospitalization JPY3000 per day
Out-Patient Care JPY1500 per day
Hakone Hiking Tours
◆ National Park Hiking in Hakone
On this tour take a leisurely hike in beautiful Hakone. Your guide uses these trails to walk, jog and train on a regular basis. We will walk in a park with soft grass under our feet, and enjoy scenic mountains in the distance. The surrounding trees are comforting and the atmosphere soothing. . This is the perfect tour for those who prefer walking rather than cycling. We won't use mountains bikes but will walk throughout the tour.
The walking distance: 3.1 miles (5 kilometers)Tour duration:1 hours and 30 minutes.Fee : JPY4500(12 years old and under JPY3000)Group size: Tour limited to a maximum of 20 participants.We meet at Hakone Visitor Center.
◆ Mt. Fuji View Trekking Course
Walking through the ridge of Hakone moutains, if the weather is good you can see the great view of Mt. Fuji and the towering mountains of South Alps on the left side and Kamiyama and Kanmurigatake mountains on the right side. And when you look back, there is a beautiful view of Ashinoko lake spreading out in the Hakone Geopark.It is a light trekking course that gives you some exercise, yet fun and refreshing!
The walking distance: 6miles(10kilometers) and the difference of elevation is 270m.Tour duration: 3 hours and 30 minutes.We recommend you to bring some snacks like chocolate bars.Fee : JPY 9000 (12 years old and under JPY 4000)Group size: Tour limited to a maximum of 20 participants.We meet at Hakone Visitor Center.
※Price includes guide fee,teatime,mineral water, and accident insurance.
● Accident Insurance Coverage(For Hiking Tour)
In case of death JPY8 hundred thousand
Hospitalization JPY1000 per day
Out-Patient Care JPY800 per day
Reservations/Contact Information(For All Tours)

Phone: 0460-84-9222 / Email: hakone@mountainripper.com / Online Reservation Form www.mountainripper.com
Reservation deadline: 5:00 p.m. the prior day
Entry

Please fill in the below
Hakone Mountain Ripper

1245-657 Sengokuhara Hakone Town Ashigara Shimogun Kanagawa Prefecture 250-0631
TEL / FAX 0460-84-9222 / Guide: Norihito"NORI" Suzuki